Study smart with daffodils - Jammu
Monday, 20 April 2015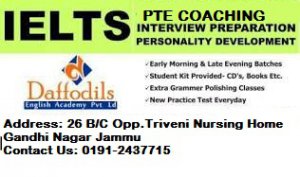 Item details
City:
Jammu, Jammu & Kashmir
Contacts

Daffodils

0191-2437715
Item description
DAFFODILS Study Abroad Pvt.Ltd has molded its vision on the basis of following three principles:
•Innovation, whereby we always strive to adopt new techniques and methods to teach students in the best possible way.
•Action oriented work culture to give a stimulating boost to the academy and its students.
•Empowering students with knowledge and tools to guarantee success for them.
•DAFFODILS Study Abroad Pvt.Ltd can trace its journey back to 2000. At the time when aspirants of overseas education were groping in the dark, DAFFODILS, a not for profit institute, relentlessly offered its guidance and support to students, in terms of not only counseling and admission processing, but also with its comprehensive test preparation modules. Soon after, owing to its result oriented approach, DAFFODILS firmly established itself as one of the top rated academies for international education services and has set up delivery nodes in Jalandhar, Ludhiana and Chandigarh.
•A rock solid foundation, forward looking management, more than adept faculty and enthusiastic students have established DAFFODILS as a frontrunner in the ever growing Industry of English- as- a- Language. Over the years, DAFFODILS has introduced interactive teaching and learning methodologies making extensive use of audio-visual medium for language learning. DAFFODILS was one of the first institutes to bring forth latest experiential learning methodologies in PTE learning.
•Constant positive feedbacks from enrolled and passed out students and their parents have created a name that is trustworthy. It also keeps up the motivational levels of the management and faculty to explore more and better ways to constantly innovate and bring forth newer methods for better learning.
WHY DAFFODILS FOR PTE
•Flexible timing for busy students
•Free practice tests/Audio cd's/Notes
•Daily 3 hours session
•Exclusive tests, tips and techniques
•Limited numbers of students in each class
•Study PTE with qualified teachers
•Exclusive course material.