Interested to move abroad? come and join us to fulfill your dreams - Jammu
Saturday, 17 June 2017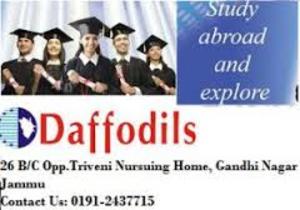 Item details
City:
Jammu, Jammu & Kashmir
Contacts

Daffodils

2437715
Item description
Daffodils Study Abroad Pvt.Ltd was started with a single-minded focus of helping students take their careers to greater heights. Our core activity lies in ensuring that students make the right choice when they decide to study abroad.
We provide the highest quality of educational counseling for a student to make his dream of studying abroad a reality. Our existence revolves around our students. We ensure that you get the most hassle free experience of making the right decision of studying abroad.
Career Counseling
Students these days are flooded with a plethora of career options to choose from. Generally, at a young age, students find it difficult to understand what career choice, what course, which country would be best for them. Studying abroad is a huge decision both in terms of the money and emotions involved. It therefore is imperative for students to ensure they think thoroughly before they take a decision. Our trained and experienced team of counselors helps students to identify their goals and ensure that the student chooses a course that perfectly matches their goals.