Daffodils: study visa expert in jammu - Jammu
Monday, 19 March 2018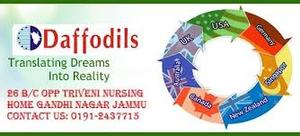 Item details
City:
Jammu, Jammu & Kashmir
Contacts

Daffodils

2437715
Item description
When a student comes to us with a dream of studying abroad, our team of personalized counselors ensure they understand fully well the goals and aspirations of the student and accordingly suggest a college and course. There are hundreds of universities across the globe, however we screen them and only suggest the university that is best for their career.
Admission Guidance
Each student is important to us and we give all our students equal time and attention. We ensure that the process of admission is as hassle free for the student as possible. We ensure that his application highlights his qualities and strengths that will increase his chances to get admit in a foreign university. Also, we ensure a thorough and error-free application for the student. We help the student with his SOP- Statement of Purpose and LOR- Letters of Recommendations.
We ensure a thorough follow- up with the universities and ensure the quickest outcome.
Visa Guidance
Visa guidance not just includes filling visa applications, but also includes preparing students for mock interviews with country high commissions, preparing financial documents and guidance with bank loans etc. We are always in touch with the consulates of countries and ensure maximum success in getting visas.