Daffodils the english expert - Jammu
Saturday, 17 March 2018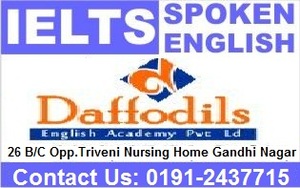 Item details
City:
Jammu, Jammu & Kashmir
Contacts

Daffodils

2437715
Item description
Daffodils has been offering English language programs for over 12 years to the students who wish to improve their career prospects or study abroad. We train students in Spoken English, IELTS, TOEFL and Interview Preparation. To learn good English there could not be a better place than Daffodils, the award winning institute. Daffodils are clearly the undisputed leaders in India in English Language Programs including IELTS coaching.
English is a universal language, which is spoken across the globe. It is an important means of communication and connects people from all parts of the world. Spoken English is widely used in colleges, universities, workplace, social gatherings, during interviews and in many other situations. People who have a good command over the language feel confident where as it is an embarrassment for those who do not know the language perfectly.