DaffodilsOverseas Education Consultants - Jammu
Wednesday, 27 May 2015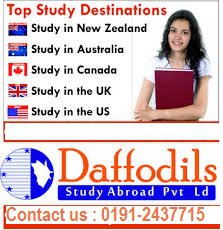 Item details
City:
Jammu, Jammu & Kashmir
Contacts

Daffodils

0191-2437715
Item description
Daffodils Overseas Education Consultants was started with a single-minded focus of helping students take their careers to greater heights. Our core activity lies in ensuring that students make the right choice when they decide to study abroad.


We provide the highest quality of educational counseling for a student to make his dream of studying abroad a reality. Since 2000, we have sent hundreds of students to various countries like USA, UK, Germany, Australia, Canada, Singapore, New Zealand etc.
Our existence revolves around our students. We ensure that you get the most hassle free experience of making the right decision of studying abroad.


Most of our counselors are reliable, knowledgeable and experienced in this field of guiding you through this process while always keeping in mind your preferences. You can rest assured that you will make the right choice with us at Imperial Overseas Education.

Career Counseling
Students these days are flooded with a plethora of career options to choose from. Generally, at a young age, students find it difficult to understand what career choice, what course, which country would be best for them. Studying abroad is a huge decision both in terms of the money and emotions involved. It therefore is imperative for students to ensure they think thoroughly before they take a decision. Our trained and experienced team of counselors helps students to identify their goals and ensure that the student chooses a course that perfectly matches their goals.
University Selection
When a student comes to us with a dream of studying abroad, our team of personalized counselors ensure they understand fully well the goals and aspirations of the student and accordingly suggest a college and course. There are hundreds of universities across the globe, however we screen them and only suggest the university that is best for their career.

Admission Guidance
Each student is important to us and we give all our students equal time and attention. We ensure that the process of admission is as hassle free for the student as possible. We ensure that his application highlights his qualities and strengths that will increase his chances to get admit in a foreign university. Also, we ensure a thorough and error-free application for the student. We help the student with his SOP- Statement of Purpose and LOR- Letters of Recommendations.
We ensure a thorough follow- up with the universities and ensure the quickest outcome.
Visa Guidance
Visa guidance not just includes filling visa applications, but also includes preparing students for mock interviews with country high commissions, preparing financial documents and guidance with bank loans etc. We are always in touch with the consulates of countries and ensure maximum success in getting visas.
Finance Assistance
We at Daffodils Overseas Education understand that most students have issues arranging funds for their education. This is the case especially if the student has to apply for a bank loan/education loan. We give the student complete guidance on how to arrange funds in a quick and easy way.
We have tie-ups with many banks and financial institutions to help the student arrange funds at the most reasonable cost possible.